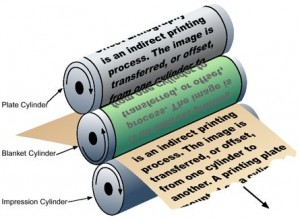 It is time now to bring the printing plate and the printing press together. There is another printing method which goes way back. It is called Letterpress. It is still used today, usually in smaller shops. It uses movable type, a process in which type is set in slugs by machine or set by hand, one letter at a time, then set in frames, a roller adds ink and the paper is laid on the type. A platen comes into contact with the paper or vice versa, and the printed paper is removed.
As you might imagine, the process is rather slow.
Enter the offset press; another name for the lithograph press. In this printing method, the plate never comes into contact with the paper. Instead, the plate goes on a cylinder where rollers add a wetting solution to the plate and rollers add the ink to the image on the plate. The image does not absorb the solution but does hold the ink. Where there is no image, the solution wets the plate and the ink will not adhere to the wet area. Wrapped around another cylinder, which lightly rests on the plate, is a "blanket" made of a rubberized material. The inked image on the plate is "set off" on the blanket. Hence the name, Offset Press. The paper runs between the blanket and another pressure cylinder and the image transfers to the paper at speeds in excess of 5000 to 10,000 pcs per hour.
About the Author: Don Weston Started working in the printing industry over 50 years ago and remains the mentor of the owner of Weston Graphics, Inc.   See more
articles
by Mr. Weston 
HERE
. Read about the Author 
HERE
.  
Related Posts